Despite the heat this weekend I accomplished two things: finishing my metal bin and harvesting a bunch of veggies from our garden.
This bin is ready to party! I stenciled our name on the side with the same bright orange Rustoleum spray paint. The letters didn't come out as crisp as I wanted it, but eh...it's okay!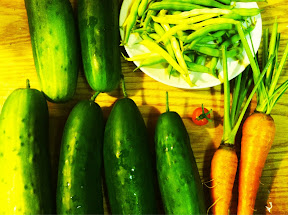 And look at these beauties...just one cherry tomato today! But there are plenty of them turning orange and will be ready for harvesting this week or next. The cucumber plants, however, are going nuts. Waaaay too many cucumbers this summer to know what to do with. I must conjure up more recipes...
'Til I craft again,
Myrill
- Posted using BlogPress from my iPhone