My grandma was a pretty crafty lady according to my dad. Besides knitting, crocheting, and sewing she would use a loom to weave place mats and doilies. Her crafty itch runs through my veins, but unfortunately, so does her short stature. Well, after my dad described to me her weaving process, I googled "loom frame," and this is what I found...
It is a Lily Speed-O-Weave probably from the 50s. I browsed EBay and found a lot of products from the Lily Mills Company were for making fiber crafts. I wish the company was still alive to meet my craft needs!
I bought a loom and started working on it since yesterday. It's given me such a weird vibe knowing no one in my family has weaved on one since my grandma until now.
The box is adorable, and would make any hipster swoon. Assembling the loom was cake. One thing I love about old things is how durable they are; the frame is made out of metal. However, it would be helpful if a few of the pegs on the frame were color coded to help you not lose your place while looping the string around. So far the directions are alright. I've gotten by with looking at the diagrams and fiddling around as I go. I don't expect my first place mat to be Pottery Barn amazing.
This is my progress so far. My only real complaint is the Speed-O-Weave is not so speedy. I suggest watching your favorite show while winding the frame or listening to Pandora while tying the half-hitches.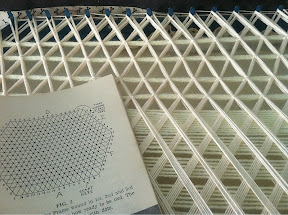 I'm going to use thicker yarn for the next mat to make the process faster. I give this vintage craft kit an 8 out of 10 with a thumbs up to boot! It's relaxing, and I'm excited to see the final product!
- Posted using BlogPress from my iPhone